Welcome to the Trent Valley Quilters' Guild Website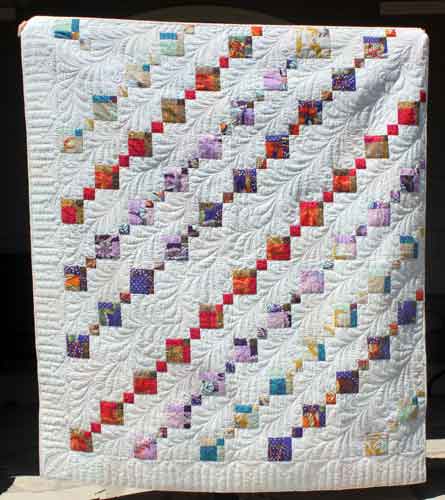 This is the Fundraising Quilt for our 2023 Quilt Show.
It was very generously donated to the Trent Valley Quilters' Guild by Bill Stearman of Picton ON.
The pattern is his own variation called "It's A Slippery Slope" of a Double Disappearing Nine Patch. He titled this quilt "Rise Up", and it is the mirror image of his original pattern, made in 2019. The large lap quilt measures 58 inches by 67 inches.
Deanna Gaudaur of Quinte Studios in Trenton ON did the beautiful quilting on it. This quilt was entered in the (cancelled) Quilt Canada show of 2020, and shown on-line in June, 2021. The fabrics in the quilt were created by friends of Bill's: background fabrics are by Victoria Findlay Wolfe of New York, and the patterned fabrics by Kathy Doughty of Material Obsessions in Sydney, Australia.
Tickets are $2 each or 3 for $5
Visit https://www.facebook.com/trentvalleyquiltersguild/ for updated information.
Thank you for stopping by to visit our Guild.

Our meetings are held on the third Wednesday of the month
(except July and August)
Brighton Community Centre, 75 Elizabeth Street, Brighton, Ontario
We serve the Trenton, Belleville, Brighton, Stirling & Frankford areas.
The doors open at 1 pm. The meeting is from 1:30 pm - 3:30 pm.